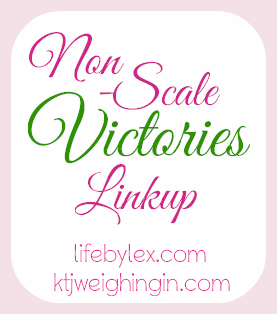 I love linking up with NSVs. I've shared a lot already, but I'll summarize here!
* I am starting to feel like a runner! I'm looking forward to my runs, and trying to go just a little bit farther each time.
* I'm wearing a few pairs of pants that I haven't been able to wear in a very long time. (And my others are definitely getting too big!)
* Someone who didn't know I was working on my healthy lifestyle asked me if I was losing weight. I've had comments from people who know (and they make me feel good!!) but now other people are seeing it!
* Several people have told me I am inspiring them to lose weight and get healthy.
What are your non-scale victories this week?