Time for a linkup. At first I didn't know if I would be able to come up with anything. It's been a rough week. But I dug deep!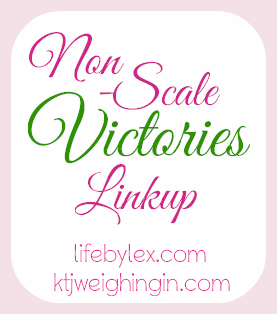 For 135 days, I have logged my food and exercise on
MyFitnessPal
. I haven't done everything perfectly, but I continue to trudge along.
I got my prize from
EveryMove
's Fitcation contest that I won last month. I got a Body Media (aka Body Bugg) like they use on The Biggest Loser, a t-shirt, an aluminum water bottle, a gift card for a pair of running shoes and a night in a fancy hotel. The last two items are from Seattle. But the shoe store mailed out a pair of shoes to me today (after we talked about what I've been wearing and my feet issues.) The hotel stay is going to be a wedding present.
I got new workout clothes from Mother's Day. You can see a pretty model picture of the purple shirt at the
Old Navy site.
But here's what it looks like on me. I got three pieces. The purple shirt is a compression tank top with a built in bra. (Not nearly enough bra for me.) The peach shirt is just a regular tank. In both pictures, I'm wearing compression pants. Apparently I have very thin lower calves. They are bagging around the ankles!
Some thoughts to remind me that I need to keep going. I will not give up!